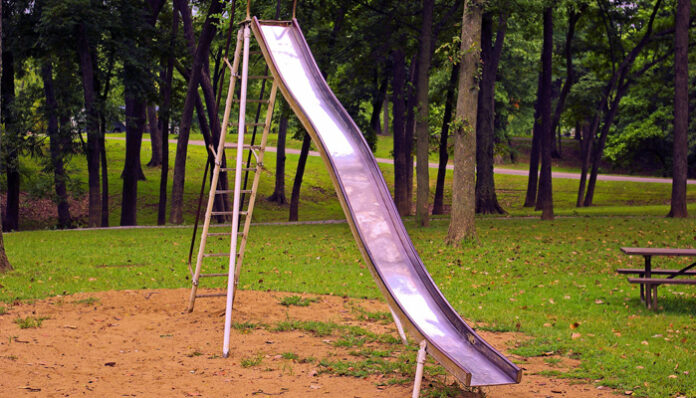 I remember in Elementary school one of my favorite parts of the day was recess.
The teacher would clap her hands to let us know it was time for recess and you'd see the faces of 20+ little kids just light up with excitement.
I was one of them.
And one of the first things we'd all do when the teacher took us out was run over to what I remember as the "slide from hell".
It was an old metal slide that would be piping hot…
Would burn you on the way down…
And showed no mercy, especially on days I wore shorts!
Even still, we had a blast going down it.
The game was how many different ways could we get down it? On our butts, on our backs, upside down on our backs, upside down on our front, on our knees (in pants), sideways, etc.
To this day I still remember the sound of friction it would make when my skin rubbed against the metal. I'll never forget that.
And I'm reminded of it everytime I see a sales page out in the wild that has so much friction on it, I have to wear pants just to slide down the page!
If you've got a sales page for your product or if you're working on one, you want to make sure that thing is SMOOTH.
You want your sales page visitors to be able to slide right down it, even if they're wearing shorts ;-).
The first place to check for friction is…
Points of Disbelief
Read through your sales page as if you were a prospect or have a prospect go through it with you on a Zoom call.
Where would you call b.s.?
Which points are unbelievable?
Is there something you say that contradicts what you've said previously on the page?
All of these cause friction and will have your sales page visitors bouncing faster than a spooked cat.
The quick fix is to find every point of disbelief and add proof right under it. If you made a claim, is there a study that backs it up? Do you have a testimonial that addresses that particular objection? Is there 3rd party social proof you can show to turn a…
"That's b.s.!"
Into a…
"Oh wow, that's interesting, I didn't know that was possible…"?
If so, add it and see how it improves your conversions.
But don't stop there…
Adding proof works great, but it will still be a bumpy slide down the page if you've got the ORDER of beliefs wrong.
The better fix is to ask yourself…
What does my prospect believe now?
And…
What are all the beliefs they need to have in order for them to be in a position to purchase my product?
More specifically, what do they need to believe about their problem…
And what do they need to believe about the solution…
…in order for them to be in a position to believe that YOUR product is the right fit for them at that precise moment?
Jot down the list of those beliefs and then organize them in order of what they need to believe first, second, third, fourth, fifth… etc.
Then your sales page is essentially you knocking down existing beliefs and replacing them with new beliefs one by one in sequential order.
So that by the time they reach the bottom of your sales page, they are ready to click that buy button or take whatever your desired action is.
Here's an Example
There was an ad that came out in the New York Times in 1966 to "Save the Grand Canyon".
The headline read…
"Now Only You Can Save Grand Canyon From Being Flooded… For Profit"
From a birds-eye view the order of beliefs in the ad were…
1 – The Grand Canyon is in trouble.
2 – They are trying to flood it.
3 – They are doing it for profit.
4 – You are the only one that can save it.
5 – The only thing that can stop it is your prompt action.
6 – Letters and wires are effective.
7 – Send the pre-written letters we've attached to the president, the secretary of the interior, to your congressman, and to your senators.
8 – Also send us a form to join the Sierra Club, we're a non-profit that believes in "the preservation of the world".
If you take the time to read it, you may even find more nuanced beliefs the ad writer wanted to get across.
But the big picture flow of beliefs is the same…
Beliefs about the problem → Beliefs about the solution.
That will build a solid argument for why your prospects should buy your product and if you do it right, you'll start to get more sales – with little to no "slide" burns!
See you next time….
-Eddys Velasquez
DigitalMarketingRx
.
.
.
Want To Get Articles Like This In Your Inbox Each Week?