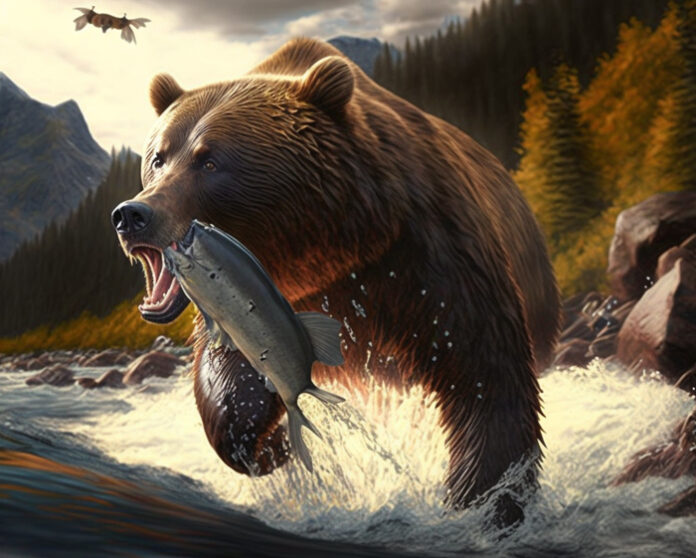 Grizzly bears eat a varied diet of berries, grasses, insects, roots, and some small mammals and carrion. However, to survive through hibernation, they must put on a thick layer of fat or they won't make it.
In order to pack it on, grizzly's go where the salmon are.
Every June-September salmon swim upriver to the freshwater streams of Alaska to breed. This is when grizzly's gorge on up to 20-25 fish per day. Just one fish is about 4,500 calories, so 25 fish is 112,500 calories!
In comparison, my spicy korean beef lean-cuisine I had for lunch today was only 330 calories. I don't think I'll be ready for hibernation any time soon.
With so many salmon swimming upstream, it's not hard for the bears to catch the fish. The bears just have to get in the way!
And due to the abundance of fish, the bears can afford to be selective. Sometimes they'll just eat the fattiest parts of the fish and discard the rest.
"Wait a minute, Eddys, are you saying I'm the grizzly bear?"
Yes! 😉 …
…and your prospects are the salmon swimming up the river.
If you want more email subscribers (or buyers), you just have to go where your prospects are and get in the way.
Driving traffic from Facebook ads is great, but that's like fishing in the ocean or a lake. There's nothing wrong with that (they are still my favorite traffic sources) but…
Here Are 13 Uncommon Rivers Where Thousands or Even Millions of Prospects Are Already Swimming Upstream Every Day…
1 – Opt-in Thank you pages – Find other people who are building their email list in the same (or similar) market and pay them to place your text ad, link, or even a banner image on their thank you page. You can either pay them a flat fee or a fixed fee PER lead that you get from the ad on their thank you page.
2 – Buyer Thank you pages – Same as above. The only difference here is you're paying to get in front of buyers. Buyers who have just bought something are more likely to take a second action (like click on your link, ad, or image on the thank you page and take a second action with you than people who have signed up for someone's freebie).
3 – P.S.'s – There are many email newsletters that are currently going out without a P.S. (gasp!) – Is that a copywriting sin? Lol no, but it definitely is an opportunity. Find a relevant email newsletter and pay them to "rent" their P.S. space. Put your text ad there, a story, an image, anything you want and send people to your optin page or a sales page.
4 – Welcome emails – Welcome emails are one of the most under optimized emails out there. In fact, my own is super short, doesn't currently have any links to anything, and I haven't looked at it in a long while. You might have a harder time convincing someone to let you place your ad in their welcome email, but if you can make the deal, it's a great place to get more email subscribers. Someone who just subscribed to an email list is very likely to also go and subscribe to yours.
5 – Product consumption sequences – Not everyone has these. But if you ever buy a product from someone in your market, you'll occasionally receive an email series from them prompting you to consume the product you bought. Pay them to include your text, link, or image ad in the header, body, or footer of those emails. And what if they don't have one? It takes a bit of effort but you could offer to write a product consumption series for them in exchange for letting you include your ad. Takes a bit of effort and not everyone will agree, but it's another great source of getting email subscribers who are "buyers".
6 – Blog post signatures – Most blog posts have a signature at the bottom from the author. You could write a short one-line text ad and see if they'd be willing to place it in their signature for a fee. You might even be able to negotiate a pay per action fee where you pay them on a per lead or per sale basis. You can also do the same thing with email signatures.
7 – Physical Package inserts – Have someone in your market (or similar market) that is sending out physical packages to their customers? Offer to cover all or part of their shipping costs in exchange for allowing you to include an insert in their package that sends people to your opt-in page or sales page.
8 – Sales confirmation/Invoice emails – One of the highest opened emails ever are the sales confirmation or invoice emails you get after buying a product or service. Some shopping carts will let you edit this invoice email. Find someone who is serving your market and offer to pay them to include your ad in their invoice email. It gets nearly 100% open rates and you'll get in front of buyers only!
9 – Course delivery platform modules – Identify complementary courses that your audience is already buying. Buy the courses, go through them, and see if there are any modules in their course that would lead into YOUR course or opt-in perfectly. Contact the course creator and offer to pay them to include your ad on that module page. Even better if they can include a spoken promo in the module video itself.
10 – Free bonuses – License some of your content as a free bonus in other people's offers. Approach a course seller and tell them you'd love to offer your content as a free bonus to their buyers. Then in order to claim the bonus, their buyers have to opt-in to your list. Usually, you don't have to pay to do these deals because the bonus adds value to the course creator's offer which can usually help them get more sales.
11- Social media personality, link in bio – Is there a famous or semi-famous social media personality that your audience follows? Pay them to put your link in their bio.
12 – Link in link trees – Many social media personalities or "influencers" will have a link that goes to a "Link Tree" or a page of their various links to other social profiles or their own website. You can offer to pay them to include a link to your opt-in page or sales page there.
13 – Link in Youtube Video descriptions – Go to Youtube and search for keywords that your audience might search for. Find some of the most popular videos (or semi-popular is ok too). Find the contact information for the person or company that owns the channel and offer to pay them to include your text ad & link in the video description. Ideally at the top so that your text & link shows before the "show more" link. However, anywhere in the description is fine too (whatever you're able to negotiate).
There's a LOT more of these but I'll stop typing here because my fingers are freezing! (I brought a plant/miniature tree inside from the backyard last night right before starting this email and it was 30 degrees but felt like 16. At the time of sending this email, it's currently 19 degrees but feels like 4!)
Anyway, to find more of these uncommon traffic rivers…
Just ask…
Where are my prospects already swimming and how can I get in the way?
These uncommon traffic sources aren't meant to be a replacement for Facebook or Google but rather a complement to them. Add as many on as you can and they'll help stabilize revenue when Facebook and Google are not being consistent.
Plus, they work to help you get backlinks to your site which help improve your search engine rankings as well.
See you on the next one…
Eddys Velasquez
DigitalMarketingRx
P.S. Next week, my product Impactful Words will be a part of a Traffic Bundle run by Monica Snyder that includes 69 traffic products to help you get as much traffic as you want from a variety of different sources.
You'll be able to get access to all of those traffic courses for just one payment of 99. A whole lot less than what it would cost to get them all separately.
I've gotten pre-access to see the offers and there are a lot of interesting ones in there that I'll be wanting to get access to as well. You may not be interested in all of them but there will be at least one, two, maybe even several that you are interested in that will make the bundle worthwhile.
I'll send you the link for that this Tuesday morning (or as soon as the traffic bundle is available).
If you're not already subscribed to my weekly email newsletter, get subscribed before this Tuesday.
P.P.S. Some useful tools…
Thrivecart – This is the shopping cart I use to sell my digital products. It has all sorts of features like order bumps, 1-click upsells, course delivery platform, and several other amazing features. However, my favorite feature… for a one-time payment you can get lifetime access and not have to pay anything else at all.
Jasper AI – AI has been all the rage these past few weeks. If you haven't gotten a chance to play with it yet, you can try it here.
Disclaimer: Yes, if you make a purchase through one of the links above, I may receive a "thank you" commission for making the referral 🙂
.
.
.